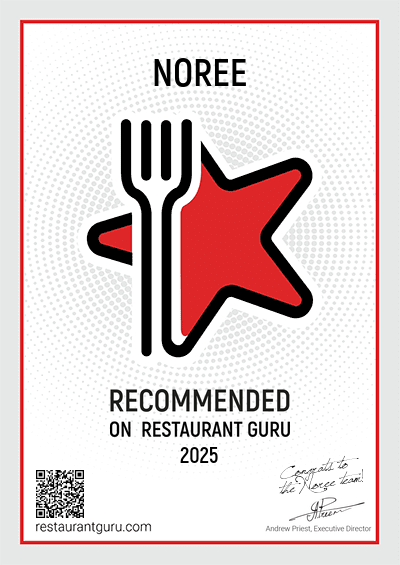 Sports Bar & Lounge
Noree
Happy Hour
4PM – 7PM All Days
$6 Specials
Bottles

Amstel Light

Bud Light

Corona

Guinness

Heineken

Miller Lite

Stella Artois

Yuengling

Drafts

UFO White

Catskill Pilsner

Sapporo

Noree Lager

Founders IPA

Modello
$7 Specials
Cabernet Sauvignon

Marlot

Chardonnay

Pinot Grigio

Rose

White Claw
$8 Well Drinks
$1 Hot Dog or $1 Wings (6pcs max) with every drink purchase.
Tasty Bites
Chicken Wings
$15
Classic or Spicy. BBQ. Honey BBQ. Sriracha, Honey Mustard. Lemon Pepper, Buffalo.
Fries
$6
+$2 Lemon Pepper. Truffle. Cajun, Spicy Cumin
Tater Tots
$8
+$2 Loaded with Nacho Cheese & Bacon
Pork & Chive Dumplings (6 pes)
$8
Steamed or Fried Dumplings served w/ Garlic Soy Sauce
Spam Fries
$9
Fried Spam Served w/ Noree Aioli
Calamari
$13
Fried Calamari Served w/ Marinara Sance
Danger Dog
$8
Bacon Wrapped Hot Dog Topped with Grilled Onions and Pickled Jalapenos
Chicken Bites
$11
Fried Marinated Dark Meat Chicken – Regular or Spicy Cumin-Served w/ Norce Aioli
Tom Yum Chicharrone
$8
Crispy Pork Skin w/ Tom Yum Seasoning
Mac & Cheese Balls (6 pes)
$10
Fried Jalapeno Mac & Cheese Poppers. Served w/ Noree Aioli.
Mozzarella Sticks
$7
Breaded Mozzarella Cheese. Quick Fried Crisp
Specialty Cocktails
The Ruby $16
Milago Silver Tequila, Homemade Thai Roselle, Hibiscus Syrup, Fresh Lime Juice, Pomerganate, Seeds and Thyme
The Passionate $16
Thai Chili Infused Tequila, Passion Fruit Juice, Lime Juice, Agave Nectar and Spicy Chili Salt
Coco Mango $18
White Rum, Malibu Coconut Rum, Mango Puree, Coconut Cream, Fresh Lime Juice Topped w/ Roasted Coconut Flakes
Lychee Diva $16
London Dry Gin, Lychee Liqueur, Lime Juice, Simple Syrup, Topped w/ Ginger Ale
Asian Pear Martini $18
Grey Goose Pear, Honey, Pear Juice, Thai Sweet Basil
Wheel of Fortune $18
Japanese Whisky Suntory Toki, Fresh Lime Juice, Lavender Syrup, Roasted Orange W heel
Purple Rain $16
Vodka Infused w/ Butterfly Pea Flowers, Stoli Vanilla, Fresh Lemonade and Vermouth
Bottle Services
VODKA
Kettle One (1L) $300
Belvedere (1L) $300
Grey Goose (1L) $300
Tito's (1L) $300
Ciroc (1L) $300
TEQUILA
Patron Silver (750ml) $250
Casamigos Blanco (1L) $280
Clase Azul Reposado (750ml) $500
Don Julio 1942 (750ml) 600
WHISKEY
Jameson (1L) $250
Tullamore Dew (1L) $250
Suntory Toki (1L) $250
Macallan 12 (750ml) $300
Johnnie Walker Blk (1L) $300
Johnnie Walker Blue (750ml) $600
COGNAC
Hennessy VSOP (750ml) $300
Remy Martin 1738 (1L) $350
Make a reservation today.